There is a young man who lives in Mukuru slums south B. He sees the life his agemates, who live in south B, live. He questions and beats himself to the ground wondering 'why him' …. 'what did he do wrong' He would do anything to have a slice of the cake; crime, drugs you name it … but will it end well?
To stay sane, the young man joins a football team. Here, he works on his talent and holds onto his dreams with the hope that the ball, will get him to BALL.
Enter, Dana cup, one of the world's largest football tournaments. It takes place every year in the North Jutland town of Hjørring in Denmark at the end of July. It has attracted over 25,000 participants (players, coaches and referees) from all over the world. It is advertised as the 'worlds most international youth soccer tournament'. This could just be the break the young man has been waiting for his entire life. It will be life-changing! He gets to showcase his talent, grow it further, get exposure and get on a plane for the first time! To participate, some bills ought to be paid. The young man will every so often skip a meal so where will Ksh. 300,000/- to cater for his transport, meals and accommodation come from? Can you feel his dreams shattering like a glass? It is so sad that he is willing to do all it takes to make it happen but there is the far he can go alone.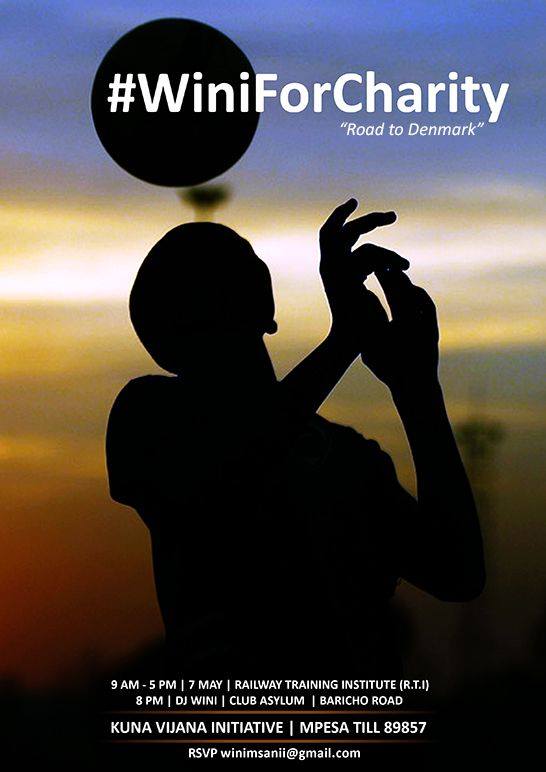 Wini Nkinda, popularly known as Manzi wa Nairobi (Don't tell Shebesh) is calling upon you and your friends, to join her and make the dreams a reality. A donation for as little as 200/- can go a very long way. Join Wini tomorrow (7th May 2016) at the Railway Training Institute, South B from 9am to 5pm where the kids will showcase their talent as they raise funds towards the cause. Did I mention tomorrow is coincidentally Wini's birthday? Come out at Club Asylum from 7pm and get to party the night away with a purpose as she continues to raise funds for the boys. She will be making a guest appearance on the decks. You can't afford to miss that. Any one who donates atleast 1,000/- bob between now and tomorrow gets a free drink when they get to Assylum. You can also RSVP via email winimsanii@gmail.com
If you do not make it for the events, you can still support #WiniForCharity in any way on the Cheza cause through mpesa till 89857 (kuna vijana initiative) or direct donations at RTI on the day or at Club Asylum on that night.
We are open to ideas and suggestions. Let us get the little stars to Denmark!