How I wish i started my entrepreneurial journey in such times. Back in the day, information was not easily accessible. You would only learn the hard way (when you make a mistake) and even those with an accounting background like myself found ourselves on the wrong side of K.R.A or Corridors of justice.
Spark* Kenya helps Impact entrepreneurs. These are the entrepreneurs who are positively effecting lives in their communities. The lucky few get on going support which if i got when i was starting out, I could be so far ahead. In December they hosted a lawyer who spoke to entrepreneurs about Startups and law. The lawyer gave the audience hands on information and also answered questions that plague most Startups.
Spark* Kenya is at it again. They are hosting a meetup on 25th February 2016 from 1:00pm – 4:00pm at The Amani Institute, 2nd Floor, Insecta Center, Braeside Gardens, Off Muthangari Road, Nairobi, this touching on startups, accounting and tax related issues.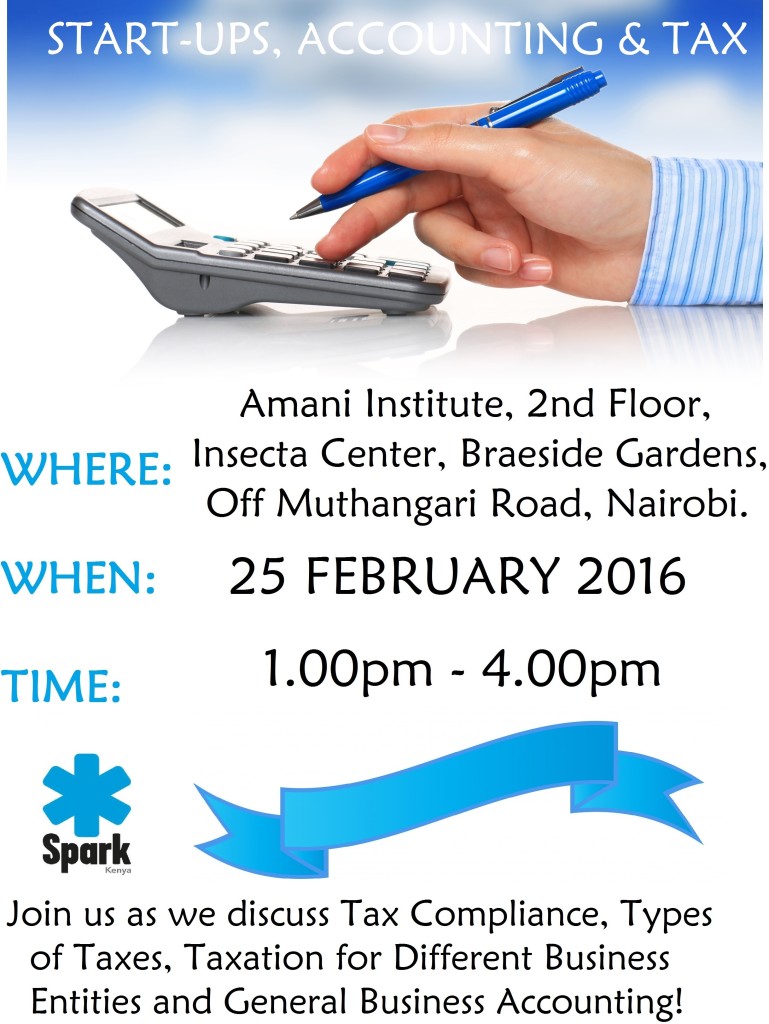 What is tax? Why do businesses pay taxes? What are the various types of taxes? How are Sole Proprietors, Limited Companies and Partnerships taxed? What are some of the general business guidelines on taxation and accounting? These are questions that the Tax and Accounts guest Speaker, will be tackling including how to comply with tax requirements and what you need to keep day to day books of accounts. You will get to ask all those nagging questions and also engage him on some of the issues you are facing with your books of accounts.
The event is free but spaces are very limited. Please RSVP via the link bit.ly/1osNKsK
Trust me you don't want to miss out. Just to recap,
When: Thursday, February 25, 2016 from 1:00 PM to 4:00 PM (EAT) – Add to Calendar
Where: Amani Institute – Muthangari Road, Nairobi – View Map
See you then