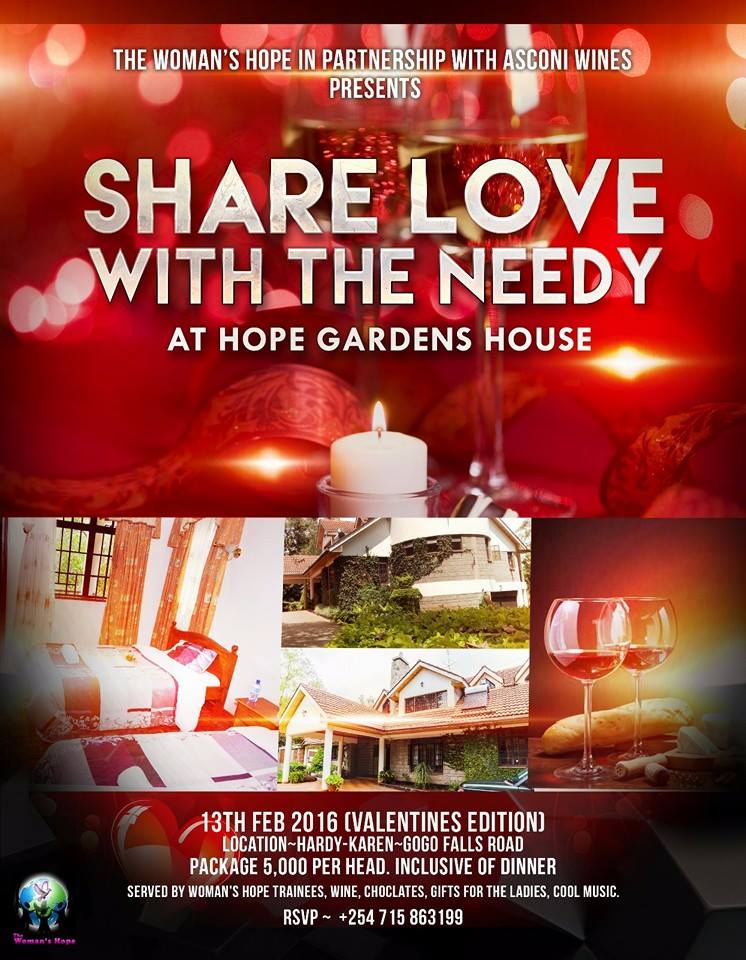 In 7 days, the January chapter of 2016 will close and that of February will open. February comes with a sigh of relief after a prolonged January according to many. It also comes with the red day (Valz) where significant others wait to see what has been under the sleeves of their 'onlys'
'What gift do i get this time round?' 'How do i make it different from the others?' are some of the questions racing through the minds of many. Thanks to Woman's Hope, we have you sorted.
In the past, people shower their significant other with love and gifts. This year it will not be any different but thanks to Hope Gardens Guest House Karen you will get to share the love with more than one person. No, i am not talking of Mpango Wa Kando's. I am talking about the less fortunate in the society, those who have been forgotten and Febuary 14 is just another day to them. Woman's Hope will on February 13th host a valentines dinner at their premise in Karen. 100% of profits will fund Woman's Hope mission to empower gender violence survivors. By spending valentines with us, you will not only put a smile on your significant others face but also to hundreds if not thousands of women out there. You will not only touch the heart of your significant other but of many other deserving forgotten women too.
Share love with the needy this Valentine's at Hope Gardens Guesthouse Amazing food, great music, lots chocolates, gift for the ladies and wine courtesy of Asconi Kenya For more details call 0715863199